Free stuff: Get a Free WordPress Skin now. This changes occasionally, so check back.
Recommended:
They don't link to it from anywhere on the site, but you can
download all of their templates at once
for a discounted rate. Not sure how long this will be active, but definitely recommended if it's still working.
In the past I've relied on designers to modify the default WordPress template to fit a specific need, but lately I've been searching for pre-packaged themes that I can download at a reduced price.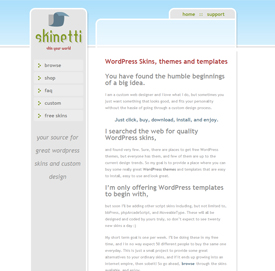 One thing I noticed in my search was the surprising lack of quality/availability of WordPress skins. The free ones are not impossible to find, but are a clear cut case of getting what you pay for so far as design, creativity, and functionality are concerned. The pay sites are the exact opposite – decent quality, but extremely overpriced.
One of the few sites that made my bookmark list was Skinetti.com.
They bill themselves as an independently owned and operated, small time developer of WordPress skins. Although the selection is somewhat limited (they seem to be adding new content periodically) the quality is extremely high for the price.
If you're in the market for a decent WordPress skin but don't want to go too cheap, I highly recommend them. And, if you need help installing the software please let me know.